The 2021 Subaru Love Promise Community Commitment Award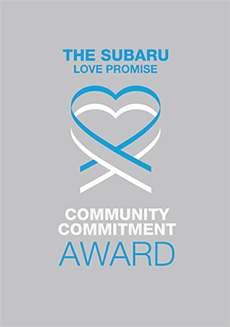 We've been nationally recognized for our dedication to our community and the Subaru Love Promise.
We're honored to receive the 2021 Subaru Love Promise Community Commitment Award. This award nationally recognizes Subaru retailers who are making the world a better place while demonstrating an outstanding commitment to supporting passions and causes in local communities. These efforts are focused in important areas such as the environment, community, health, education, and pets.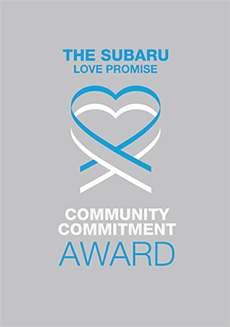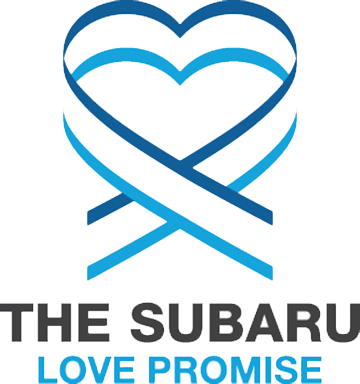 What is the Subaru Love Promise?
Subaru and our retailers believe in making the world a better place and the Subaru Love Promise is our vision of respecting all people. This is our commitment to show love and respect to our customers and to work to make a positive impact in the world.
How is Rutland Subaru dedicated locally to the Love Promise?
At Rutland Subaru, we believe in something more. We believe in being a positive force in something bigger. We believe in helping our community. Not just by our donations, but by our actions. We believe in setting an example for others to follow. We believe the relationships we build should last a lifetime. We will strive to ensure that love is felt not just by our customers, but by all. We do this because we feel it is the right thing to do.
Rutland Regional Hospital
Love Promise Stories from Rutland Subaru
Subaru and Rutland Subaru believe in making a positive impact on the communities in which we live and work. We uphold that belief through our Love Promise Community Commitment. Every month, we select inspiring stories from customers and partners from around our area who strive to support our collective commitment and feature them here
Rutland Subaru Helps Homeless Animals - Beth S
Rutland Subaru and the Rutland County Humane Society worked together to collect supplies for the homeless animals in Rutland County on October 17, 2020. The Stuff A Subaru event enabled community members to drop off supplies for the animals and load them into a Subaru. The supplies for the animals are so important to keep them healthy, comfortable and happy while they're waiting for their forever homes. Supplies included food, toys, litter, copy paper and lots and lots of other items. Donors were also able to meet some adoptable dogs and give them a pat or two. It was a great day for the animals! RCHS is so appreciative of Rutland Subaru for being there for us and the animals.
---
True Love - Lori P
Good Morning David and Bryan, David - thank you for your kind and lovely email. We cannot thank Phil and Michelle enough. Phil quickly and thoroughly worked with us with each car purchase. He was patient with our questions, he returned calls and reached out as needed, and as he promised. Phil is a gem! He is gracious, responsible and communicates clearly while explaining everything. Michelle clearly explained the information that we each needed for the separate purchases. Once we emailed her the information, the process with her was seamless and very clearly explained. She had each of our files ready to go and thoroughly walked us through the process in a respectful and careful manner. We never felt pushed to go beyond each of our budgets, there was a genuine respect there, which is rare these days. Here are two pictures, I will send you one more of us with my Outback. We LOVE our cars and are thrilled that we chose Rutland Auto Group. Thank you both very much. We look forward to seeing you both soon. Lori and Bill
---
True enthusiast - Shanna R
My name is Shanna and I am a car/Subaru enthusiast from Vermont. My love for anything with an engine began at a young age when my parents got me my first four wheeler. The older I got, that translated into my cars, and it has become one of my biggest passions/hobbies. I have had the pleasure of owning two Crosstrek's, both purchased from my local dealership Rutland Auto Group in Rutland, VT. I currently drive my 2019 Subaru Crosstrek, which I am approaching two years of ownership with. This car is so much more to me than an object that takes me from Point A to Point B. I have spent countless hours in the garage working on it with my girlfriend and pup by my side. For those of us who are enthusiasts and spend this level of time on our cars, they become a part of us. My Crosstrek is an escape for me, as our cars are for many of us. I get just as much enjoyment in the garage working on installing things with my family by my side, as I do driving it on the road with my girlfriend riding shotgun and our pup in the back seat. I truly believe the Subaru community is like no other. I haven't just gained friends, I have gained family, who are always there to support and bring ideas to life for my build. It is so much more than a car to me, and at times, it feels like a lifeline. And Subaru is so much more than a Brand, it truly is a family. Subaru will always hold a special place in my heart, because of everything I have gained/learned since owning both of mine, and my ability to trust that it will get me and my loved ones home safely every day. I am lucky enough to still have my girlfriend by my side after she totaled her 2017 Impreza, because of the fact that Subaru puts Safety at the top of their list. I can't wait to see what the future holds for me, but I know one thing for sure, it will hold more Subaru's.
---
Service 1st - Bill W
David, Thank you or taking the time with me yesterday when I was looking for Bryan Haggerty to express our strong appreciation and satisfaction with Brian and Holly in the service department and with Matt in sales. We are in the process of moving back to Vermont from Utah and South Carolina after a departure of about 5 years. Yesterday when we encountered a problem with the computer/electrical system in our 2014 Subaru Forester I stopped at your service department. Though busy, Brian arranged for a time to examine the problem the same day, gave me information regarding snow tires and arranged for an oil change, all a few hours later the same day! As a result the problem was fixed, we bought 4 new snow tires and the oil was changed, all in a little over an hour. This excellent service was a 10/10 and one of the reasons that we have bought several Subaru Forester and Outback vehicles over the last many years and are now considering another in 2020. Another reason is the sales help that we receive from Matt. As a former senior executive with major international and world-wide responsibilities for 3M Company, and having owned my small businesses, I am experienced providing customers with top level customer service and am aware of its lack these days in so many businesses. Rutland Auto Group has been consistently outstanding in this area. While it may seem extreme, your dealership and the service we get there was a factor on the list of reasons for us to return to Vermont. There were obviously other reasons, but cars are important in one's life and to know we have honest and caring people to deal with at your company is, as we discussed, important to us. Please pass on to Bryan Haggerty and any others in your company or Subaru who might be interested, our sincere and strong appreciation for your organization and the services you have provided in sales and maintenance over these many years. Bill and Jan Wolfe802-236-1564 Billwolfe00@yahoo.com
---
Safety 1st - Renee C
Dear Rutland Subaru, I am not sure if this is the best avenue to relay this message, but I wanted to thank you for selling such reliable and safe cars as the one I bought from this dealership kept us incredibly safe during a terrible accident! My name is Renee Carpenter and I bought my Subaru Impreza from this dealership back in 2016 when I was 23. I had always wanted one and was finally at a point in my life where I could afford to buy a new car. I absolutely love everything about my Subaru and I could never see myself driving something else. It fits my active lifestyle perfectly and I have always felt safe in my car. I've lived in both Vermont and New Hampshire and this car has faithfully gotten me through many snowstorms with ease. However, a recent event has confirmed that I will never stray from Subaru as long as I can help it! Last night, my fiance and I were on the interstate on our way to visit my family. We had our dog in the back seat. I was driving and it had gotten dark out. All of a sudden, a moose jumped out onto the interstate right in front of us. I didn't have time to try to dodge it, so we ended up hitting it head-on. All of the airbags deployed and I couldn?t see anything. I hit the breaks and luckily we were able to stop quickly before we hit anyone else on the interstate or the or the guardrail. Both my fiance and I walked away with just a couple of bruises and our dog is absolutely fine! My car, however, was not so lucky and was deemed a total loss. It was absolutely miraculous because it could have been so much worse! My fiance and I will be getting married in exactly two weeks and closing on our first house the week after the wedding. If we had to pay for medical expenses on top of that, it would have been a disastrous financial situation. However, because of this car, we will both be able to walk down the aisle at our wedding, we are still able to enjoy our first home together, and we still get to enjoy the company of our loyal four-legged best friend. I wanted to thank you, and Subaru, for making/selling such a reliable, sturdy, and safe car. Considering how massive a moose is, we easily could have been seriously injured or even lost our lives. We are so blessed to have walked away with just a couple of bruises and we firmly believe that my Subaru is a major contributor to that! After this experience, I can confidently say that I will always stick with Subaru. It is a car that I trust for my own safety as well as the safety of the family that we plan to have in the future. Although we are in a tight financial situation with all that we have going on, I want to stand by Subaru and purchase another to replace my totaled car. To me, it is absolutely worth it. Thank you again for such an incredible car for your customers and being committed to keeping them safe on the road. My fiance & I are forever grateful! Sincerely, Renee Carpenter
---
Longtime Customer - Susan B
Dear David, I have been a very happy Subaru owner for decades and have always bought my cars from this dealership-through its several name changes. The Sales and Service personnel are tops in their proficiency, knowledge, and friendliness. Although I am retired now, I have had the pleasure of working as a swap and service driver with the company for over twenty two years. Earlier this year I received treatment in the Foley Cancer Center at the Rutland Regional Medical Center. As a parting gift, I was given a lovely car blanket which, I was happy to learn, had been donated to the facility by this Subaru Dealership. Then, just this week I received a notice that you are collecting items for pets to be donated to various local animal associations. I am proud of my past and continued connection to this business for their participation in, and contributions to, our Rutland Community. Sincerely, Susan Beard
---
Wander to Wonder - Alyssa A
My name is Alyssa Audet and I work for Rutland Subaru. I hosted a walk in June to raise money for brain tumors/cancer because I am lucky enough to say I am a survivor! When I approached my work family letting them know I was doing the walk and asked them to join me, everyone was very willing and excited to help in any way. We named our team Subaru Sally because when I first started, that is the nickname my husband gave me for sales! Our general manager Bryan Haggerty told me that Rutland Subaru would match what our team raised by signing up for the walk. My co-workers raised $480 dollars, $500 was donated from Rutland Subaru!! What an amazing feeling to have them give back to me and our community! A total of $980 was raised from the Subaru team alone! I am very proud to work for this company and feel the love! #SubaruLovePromise My story; I am hosting this event because in August of 2016 I was diagnosed with a brain tumor. After my diagnosis, I had a 9-hour brain surgery, radiation and oral chemotherapy treatments. I am happy and blessed to say that I am a survivor. I am friends with and know other people in my community who are also battling brain tumors/cancer, and I know of others who are survivors and some who we are walking in memory of; this hits home for me and is very dear to my heart. I have been involved with cancer walks all my life, so when I was diagnosed with a brain tumor, I was determined to seek out walks in my area that were directly related to helping brain tumor research. I attended the National Brain Tumor Society Boston Brain Tumor walk in October 2017, yet many people in my family and community asked about a walk closer to home. After doing some research and discovering there are no Brain Tumor Walks in Vermont, I decided to start the first annual one! The Wander to Wonder 5k Walk will be held in the beautiful Green Mountain State, Vermont at Castleton University.
---
Subaru Loves to Care - Christine K
We had a fantastic Subaru blanket/craft kit delivery on Thursday, June 29th at Rutland Regional Medical Center. Bryan Haggerty and Stephan Maeder both of Subaru delivered 80 beautiful blankets and 10 craft kits for patients undergoing treatment for cancer. Rutland Subaru stays very connected to the hospital by participating in other events as well. In the photo are Richard D. Lovett, MD, Bryan Haggerty, General Manager, Christine Krenzer LLS, (survivor) Allan Eisemann, MD and Stephan Maeder, Owner and President of Rutland Subaru. The whole department came out and was thrilled to receive this generous donation to share the warmth to the patients.
---