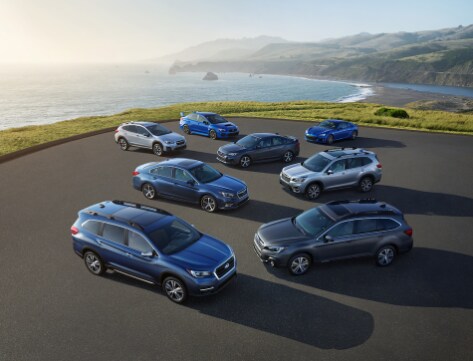 Check Out All the New Subaru Models Found Here in Rutland, VT
Whether you're driving around the up and coming Rutland downtown, or commuting daily down to Bennington or all the way up to Burlington along the Route 7 corridor, a new Subaru model is going to get you to your destination, safe and sound. Beyond excellent safety ratings and the iconic standard AWD that's perfect for driving around Vermont and the northeast, these new Subaru models provide fun driving styles, appropriately adventurous styling and plenty of great tech features that keep you connected and safe while you're on the go. Take a look through each of the new models offered at our Rutland, VT Subaru dealership serving Bennington, Manchester and Middlebury, and come over today to get started with a test drive.
Subaru Outback
The flagship model at our Subaru dealer serving Glens Falls, NY and Lebanon, NH is perfect for driving in the northeast, whether it's the sunny summertime or during the snowiest of winters. The standard AWD matches with either an efficient 2.5-liter four-cylinder, or a more powerful and dynamic 3.6-liter six-cylinder. Inside, you and your passengers will enjoy the spacious seating arrangements and the ample cargo space, while a number of standard and optional tech features help to keep you connected and safe while you're on the go. You really can't beat the latest version of the Outback for your all-around, versatile everyday driving in Rutland and throughout Vermont.
Subaru Forester
Once again, Subaru manages to combine standard AWD with a relatively efficient engine setup in a crossover. The new Forester is a more classically styled crossover compared to the sportier looking Outback, but still offers you the adventurous drivability and looks you're probably seeking here in Rutland. The Forester is the largest five-row crossover in the Subaru lineup, providing you with ample storage space and adjustable rear seats so you can fit even more cargo inside if you don't need extra seating for passengers. There are a few higher-end trim level packages for the Forester that combine striking cosmetic upgrades with the all-around generous feature offerings and overall look.
Subaru Crosstrek
Built off the Impreza platform, the Crosstrek is the most "car-like" crossover in the Subaru lineup, and it offers you the blend of sensible utility and great fuel economy that makes it a perfect commuter during icy and snowy weather we regularly experience here in Vermont. With a raised ground clearance, standard AWD and an upgraded suspension system, the Crosstrek is dynamic in all kinds of situations, and just like any Subaru, it includes a number of features for connectivity, as well as options like the Subaru EyeSight package to keep you out of harm's way.
Subaru Legacy
The midsized sedan in the Subaru lineup, the Legacy offers sensibly efficient driving in a classic four-door look. With standard AWD - a feature most midsized sedans don't even make available, let alone include in their base models - the Legacy blends its efficient four-cylinder driving with the kind of traction and control you'll need for handling Vermont roads during any time of the year. You can opt for the more powerful 3.6-liter six-cylinder if you prioritize performance over efficiency, and you'll have a wealth of feature options to choose from.
Subaru Impreza
Try finding a small sedan or hatchback with standard AWD anywhere else. Don't worry, we'll wait and be here in Rutland when you realize the Impreza is really the most sensible option for a small commuter car that comes with AWD. You'll earn close to 38 mpg on the highway in the Impreza, making it your best bet for commuting daily throughout southern Vermont or if you regularly head to nearby New York state or over to New Hampshire. But even in a small stature like the Impreza, you'll find ample cargo space, especially when you choose the hatchback setup. The Impreza also offers strong starting features like smartphone integration and touchscreen controls, as well as plenty of options you can add to the mix.
Subaru WRX
After the family friendly crossovers and sensibly efficient smaller cars, the WRX is the first of two premium sports cars in the Subaru lineup. Dynamic turbocharged four-cylinder setups with all the goods - from optional spoilers, specialized suspension systems and sport-tuned steering and handling - the new WRX uses Subaru's unique AWD system to blend with a sport car setup for thrilling levels of performance. Choose a base level WRX, or upgrade to the more powerful STI setup that adds more sport-oriented design and performance features to the mix.
Subaru BRZ
Finally we arrive at the lone Subaru model without AWD. That's because the new BRZ is a sports coupe with RWD, offering drivers a change of pace with a little car that's peppy and a blast to drive. Making the most out of its lightweight frame, the BRZ is a delight for cruising along open highways, though we won't recommend this coupe for your winter driving around Rutland and the rest of the northeast. The BRZ combines a sporty cockpit with equally stellar exterior styling and the driving dynamics you'd be looking for in a performance-driven two-door.
Subaru Ascent
We're incredibly excited that Subaru now offers a three-row SUV for your travels around Middlebury and Rutland. With ample space inside, tons of features and amenities, and the typical features our favorite brand prioritizes, the new Subaru Ascent is the perfect family vehicle. Of course you get standard AWD, matching with a dynamic turbocharged four-cylinder engine. Also standard is the Subaru EyeSight safety suite, bundling features like automatic forward braking and lane departure warning, among others. In higher trims, complement your infotainment package with an available 4G LTE Wi-Fi hotspot, heated seats and steering wheel and a panoramic sunroof, among all the other options you can add to your Ascent. Finally, marvel at the incredible 19 total cupholders found in the Ascent, which adds to the smart small-item storage management that makes driving the family around a breeze.