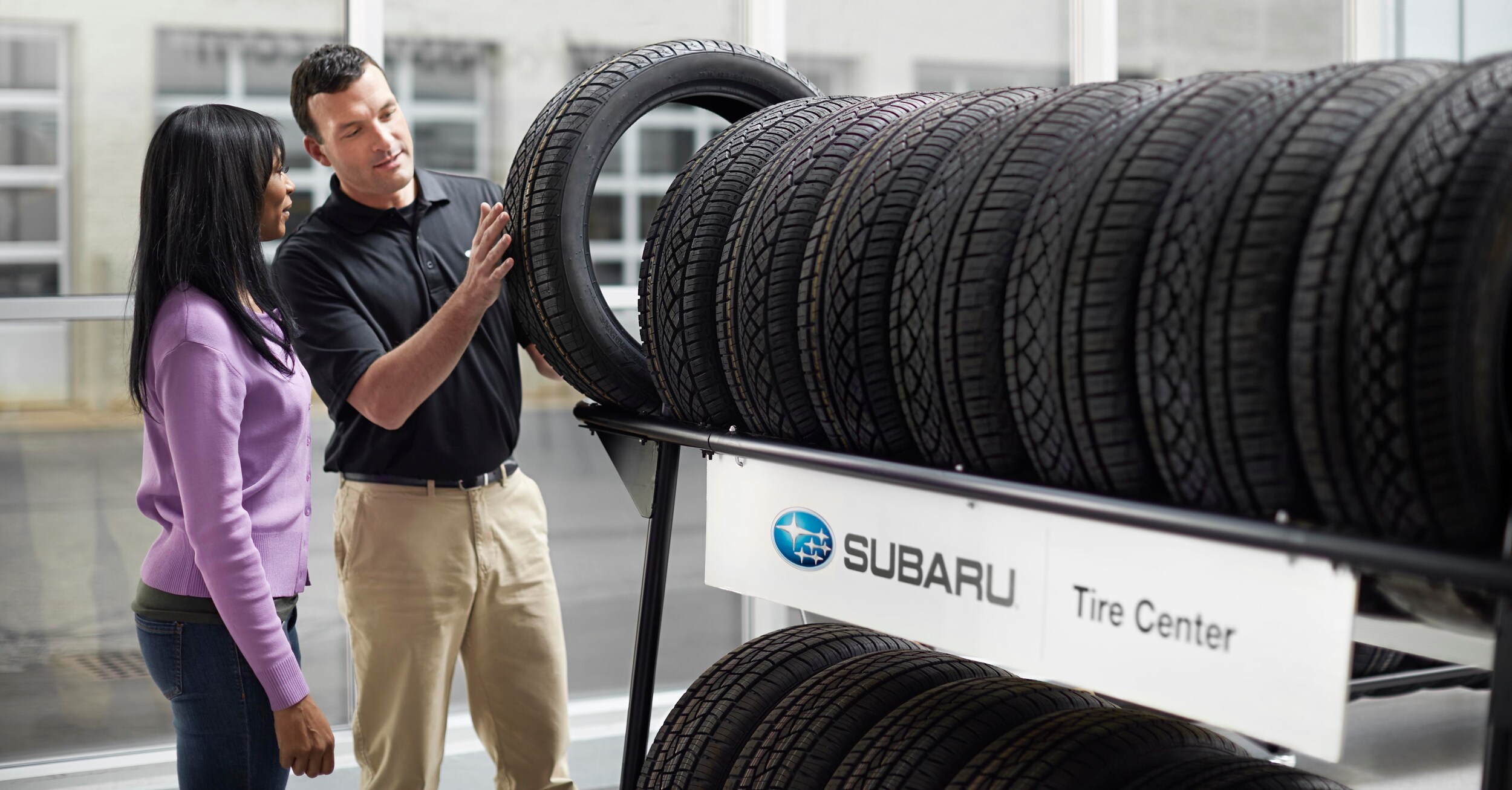 Equip Your Vehicle With the Best Winter, Summer or All-Season Tires
If you drive a Subaru, you know all about dynamic AWD and being able to handle even the worst New England winter driving. But beyond what our favorite brand at our Rutland, VT, dealership does to create safe all-season driving, we also offer the best tires for your vehicle. The combination of high-quality tires from the leading brands and the symmetrical all-wheel drive your Subaru will lead to safer travels all winter long, and into the spring and summer.
Just like the experts at our parts center will know what components match your specific model, we'll be able to match your specific Subaru Outback, Legacy, Crosstrek or Forester up with the right tires. We feature leading brands like Bridgestone, Hankook, Goodyear and Continental, among others, and we'll always have a wide selection of tires available for you to purchase when you need them most. Of course if we're somehow out of stock of what you're looking for, we can quickly and easily order a set for you with little trouble.
Tire Maintenance Services & Repair
Beyond the availability of tires, we also take care of proper mounting, installing and balancing, all factors that are important for any car, but especially for Subaru models that rely on AWD for every mile of the way. Even if your tires have several thousand more miles and a few more years left in them, it's worth visiting our Rutland service center for routine tire rotations and checkups to make sure yours are ready to continue rolling on.
For all things tire related, bring your car over to Rutland Subaru today and we'll get you started. Your Subaru deserves the best tires and we have them here in Rutland, so for winters, all-seasons or summers, head over right now to get started.
---
Proper Tire Maintenance: Frequently Asked Questions
How often should I check my tires?

We recommend always taking a quick look at your tires before driving. A simple walk-around can help you identify any potential issues long before they are a problem.  You should also check the air pressure of your tires at least once each month.  There should be a label located on the driver's side door jam indicating the proper inflation for your vehicle's tires.  Here at Rutland Subaru we will also check your tires each time you bring your vehicle in for service.



How often should my tires be rotated, and why?

You should rotate your tires approximately every 6,000 miles, this can help make sure you are evenly wearing the tire tread which can increase the lifespan of your tires and maximize your performance. At Rutland Subaru we can help schedule and perform this service for you.



When should my tires be replaced?

It is illegal in all 50 states to drive with tires that are below 2/32" tread depth.  However, to ensure optimal safety and handling, experts recommend replacing tires before they reach a tread depth of 2/32".  If you're like most New Englanders, your likely to face rain and snow during your commute, so we encourage you to replace your tires before they become a safety hazard.  When it's time to replace your tires, it's time to see the professionals at Rutland Subaru. We are committed to safety and the core technologies that provide it. Why take chances with your vehicle's handling, safety, comfort, or performance? Rutland Subaru will make sure your vehicle is outfitted with the same high quality as your original equipment tires that were installed at the factory.



What is a Wheel Alignment and Why is it Important?

We like to joke that a getting a wheel alignment for your car is like get visiting the chiropractor for your back.  Just like you feel instant relief after an adjustment, so will your can after an alignment.  To put it simply, a wheel alignment is an adjustment to the angles of the wheels to ensure they are perpendicular to the ground and parallel to each other.

Regular wheel alignments should be considered routine preventative maintenance.  An accurate alignment is critical to balance the treadwear and performance a vehicle's tires deliver.  Regular wheel alignments will save you usually as much in tire wear as they cost and they can prevent worse issues from occuring.
Call our knowledgeable parts department to order your tires and they will be happy to answer any questions on what tires best fit your car and driving style.
Order Tires