Why Choose Subaru Over Competing Brands?
You see them all around Vermont, Upstate New York and New Hampshire, and there are several reasons Subaru is one of the most popular car brands in the area. From the standard all-wheel drive that's ideal for tough winter driving, to the overall sense of safety, durability and reliability to the high-end tech options, the new Subaru models you'll find here in Rutland, VT easily best the competition when it comes to your search for your next vehicle. Take a look at these reasons that our preferred brand bests competitors like Toyota, Honda, Nissan, Jeep, Ford, Chevy, and Hyundai, then visit our Subaru dealership serving Middlebury, Bennington and Manchester, VT, Glens Falls, NY, and Lebanon, NH today for a test drive in the model you choose.
Reason #1: A Reputation For Safety
Earning Top Safety Pick ratings across the board from the IIHS for its lineup from 2010 to 2016, and continuing that trend with the recent releases of our 2017 Outback, Impreza, Legacy and Forester models, Subaru is known for keeping drivers and passengers out of harm's way.
Safety is prioritized through dynamic design and engineering, as well as these kinds of technologies and features:
Vehicle Dynamics Control (VDC): This stability control system helps you stay in your intended path when it detects your steering and braking patterns.
Electronic Brake-Force Distribution (EBD): Pairing with standard Anti-Lock Braking System, the EBD feature provides even distribution of braking force, which not only improves your stopping time, but also reduces the wear and tear on brake pads and other crucial parts in your Subaru.
Optimum Visibility and Conscious Design: Designed to give you a greater range of vision with its masterfully designed large windows and smaller A-pillars, these Subaru models are also built to withstand heavy impact. Additionally, the boxer engine's placement is designed to be driven under the chassis in the event of a front-end collision, while the advanced airbag system will kick in throughout to keep everyone protected.
Advanced Technology: The Subaru EyeSight driver's assistance suite is offered in higher trim levels of the Outback, Legacy, Impreza, Forester, Crosstrek and WRX, and it's like several extra sets of eyes looking out for you. These systems even provide you with automatic braking and collision mitigation, as well as SOS Emergency Assistance and Enhanced Roadside Assistance.
Reason #2 - Symmetrical All-Wheel Drive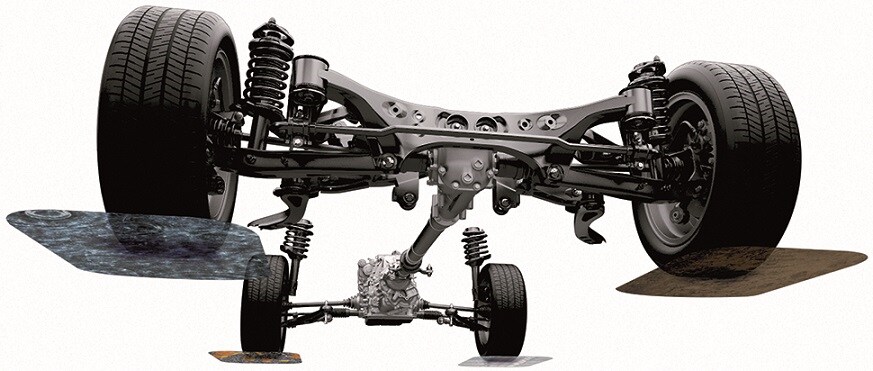 Iconic for all Subaru models - besides the dynamic rear-wheel-drive BRZ - the symmetrical all-wheel drive offers the ultimate level of traction and control, no matter what the road surface is, and what weather conditions you're driving through. Here are some of the advantages of this AWD system:
Linear power is supplied to all four wheels at all times, instead of traveling through several 90-degree turns in an adapted system.
Symmetrical AWD prevents torque steer.
You won't lose power in the turns you make with the symmetrical AWD system.
The symmetrical AWD system is always on, unlike the part-time 4x4 systems found in Ford, Nissan, Toyota and Honda models.
Reason #3 - Subaru's Boxer Engine
Just like it makes an advanced AWD system, Subaru knows how to build an engine that balances power and fuel efficiency. This horizontally-opposed flat engine design is named for its piston motion's similarity to the gloves of a boxer punching in and out simultaneously. This reduces vibrations, leading to a comfortable and quiet ride, and it reduces overall wear and tear during engine starts, helping you to keep your Subaru running smoothly for years.
The Competition Can't Keep Up
From these currently new Subaru models, to the older used Outback, Legacy, Impreza and Forester models, our preferred brand can't be beat. Click through the following links to see how our models compare to competing editions.
If you have any questions, be sure to contact us and head over to Rutland Subaru today to get started with a test drive.